2023-08-12 14:41
Amanda Bohlin and Kristian Klevgård won Cykelvasan 90 2023
The battles for victory in Cykelvasan 90 2023 were quite undramatic. Both the women's and men's winners broke away and cycled solo nearly half the race. Amanda Bohlin from CK Hymer in Linköping made her Cykelvasan debut and secured victory by nearly a minute. The men's champion, Kristian Klevgård from Norway, repeated his 2021 victory, this time winning by over three minutes. In total, nearly 14,000 participants registered for the various Cykelvasan 2023 races, with the last ones expected to cross the finish line later tonight in Mora.
The storm Hans, causing wet and high water levels, led to some significant adjustments of the Cykelvasan 2023 course, including right after the start in Sälen up to the first climb, past the marshes at Mångsbodarna, by Lundbäcksbacken before Oxberg, and even the final stretch towards the finish line in Mora.
Women's Elite
Cloudy, 12 degrees Celsius, and a light breeze marked the conditions as 63 women started in Sälen at 07:30 to embark on the 96-kilometre journey to Mora. It would, in parts, turn into a muddy day.
This is the first year that cyclists bike their way up the first uphill slope, just like skiers do in winter. Tilda Hylén took an immediate lead and got the sprint prize at Vasaloppet's highest point, 528 metres above sea level and about three kilometres after the start, with a 27-second advantage over Amanda Bohlin and Terese Andersson.
However, shortly after Smågan, a group including Karin Söderqvist and Carolina Licht caught up with Tilda. This quintet was the first to reach Mångsbodarna, 37 seconds ahead of six other cyclists, led by Hildegunn Hovdenak. By Risberg, the group had extended their lead to nearly a minute.
Amanda Bohlin claimed the hill prize in Evertsberg halfway through the race, and the quintet widened their lead. However, immediately after Evertsberg, the other four could see Bohlin pushing ahead of them.
At the Oxberg checkpoint, Amanda Bohlin led by a minute, and she maintained the distance in Hökberg, where the group trailing behind consisted of nine cyclists.
Amanda Bohlin managed to hold her lead and crossed the rain-soaked finish line in Mora with a time of 3:25:57. Behind her, a sprint battle ensued for the remaining podium places. Clara Lundmark from Norbergs CK secured second place, 56 seconds behind Bohlin, narrowly ahead of two-time champion Hildegunn Gjertrud Hovdenak from Norway. Antonia Gröndahl from Finland took fourth place, with the same time as Hovdenak.
Former triathlete Amanda Bohlin was a joyful yet surprised winner at the finish line:
"I'm not quite sure what happened after the sprint prize in Evertsberg. I pushed on and got a gap, then I looked back and thought that I should just keep going; I figured, they either catch up or they don't and, well, they didn't… And that's how it turned out. I must have looked back a thousand times and shouted quite a bit at people around me who were cheering me on, so I apologize for that, but I was panicked and incredibly tired, so I was really worried they would catch up. But I thought, 'Okay, focus Amanda, it's just a few minutes left'…"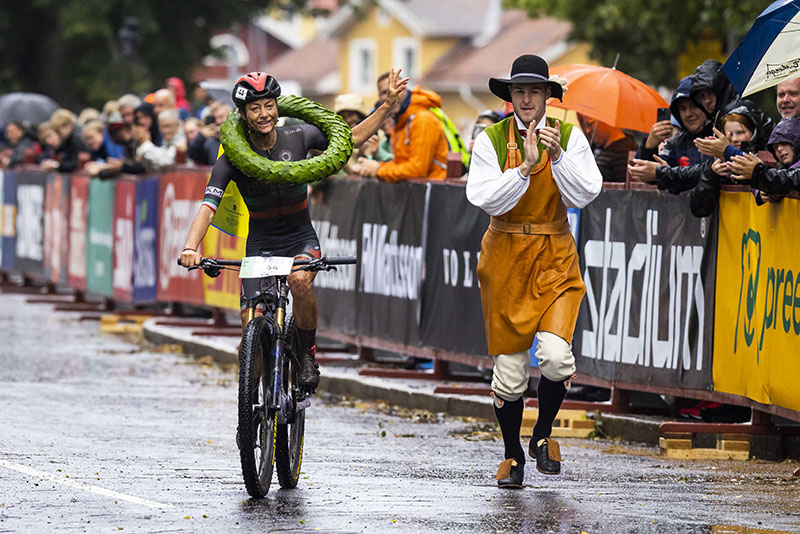 Men's elite
When the 350 elite male cyclists started at 08:15, it had started raining at the start. Edvin Lindh sprinted and secured the sprint prize at the highest point, just ahead of last year's winner Emil Lindgren and Matthias Wengelin.
Björn Andreassen from Denmark claimed the sprint prize at Smågan, with 31 cyclists within a 16-second range. The pace picked up after Smågan. Two cyclists took the plunge and broke ahead; Kristian Klevgård from Norway and Richard Larsén. By Mångsbodarna, they had a lead of 39 seconds over the larger pursuing group. In Risberg, their lead was a full minute.
Richard Larsén won the hill prize in Evertsberg just ahead of Kristian Klevgård, with a significant 1.36 lead over the pack. The question was, how motivated was the group to catch up? Five kilometres before Oxberg, Larsén dropped back, leaving Klevgård alone in the lead. The group came closer for a while, but in Oxberg, Klevgård still held a 1.26 lead, which was only increasing. It was later revealed that when he became the sole leader, he completely lost track of how far behind the rest were.
Kristian Klevgård, who won Cykelvasan 90 Elit in 2021 with a half-minute margin, repeated his victory, now with a buffer of over three minutes. The largest victory margin in the men's class in Cykelvasan history! His winning time was 2:51:31. Second place went to Klevgård's compatriot Østen Brovold Midtsundstad, and third place to Hugo Forsell from CK Hymer. Apart from the Norwegian double victory, there were three more Norwegians among the top nine. Five Norwegian participants in the top ten is also a new record for Cykelvasan.
After crossing the finish line, Kristian Klevgård described that it had been a long, tough day and he had been a bit uncertain about the first uphill climb, whether someone would break away right there, since he himself was starting a bit further back But it went well, and the pace was already high on the gravel road after the first climb (where he passed the highest point of the course in 26th place).
"After the first section, it started to break up, and I saw that Richard Larsén was trying to go on the left side, and I thought that was a good wheel to follow. I know Richard from before, we have trained together, so I know he's strong. Suddenly I saw that we were creating a gap, and after that, we decided to go 'all in.' We gave it our all and collaborated very well. Over time, I think Richard felt that it was getting a bit fast. On a hill, I tested him a bit and luckily I was strong enough to get away. It felt great, but after that I had no idea about the timing or anything. Was it ten seconds, thirty, or a minute? I had no clue, I just kept pushing as hard as I could all the way. I tried to take short turns and go on the attack on the hills. Fortunately, I managed to stay ahead."
It wasn't until he saw the finish line that he understood he would win:
"I had no idea of the timing at all. I feared they would catch up. From 35 kilometres left, I was thinking '34, 33, 32…' and for every kilometre I got closer to the finish line without being caught, I was satisfied. I tried to have a good inner dialogue, and it was really fun to come first again this year."
"It will be challenging to achieve three wins, but I really enjoy this race. I absolutely love Vasaloppet. It's an offensive race, that's what's fun about it," concludes Kristian Klevgård.
RESULTS
Cykelvasan 90, 96 km Sälen-Mora, women, 2023-08-12
1 Amanda Bohlin, (SWE), CK Hymer, 3.25.57
2 Clara Lundmark, (SWE), Norbergs CK, 3.27.06
3 Hildegunn Gjertrud Hovdenak, (NOR), Norway, 3.27.07
4 Antonia Gröndahl, (FIN), Duolar-Chevalmeire Cycling Team, 3.27.07
5 Nathalie Eklund, (SWE), 3.27.10
6 Nellie Larsson, (SWE), Bukten MTB/Lapierre Sweden, 3.27.15
7 Terese Andersson, (SWE), Serneke Allebike CK, 3.27.16
8 Carolina Licht, (SWE), Värnamo Cykelklubb, 3.27.26
9 Tilda Hylén, (SWE), Falu Cykelklubb, 3.27.26
10 Karin Söderqvist, (SWE) Motala AIF CK, 3.27.35
Cykelvasan 90, 96 km Sälen-Mora, men, 2023-08-12
1 Kristian Klevgård, (NOR), X-Speed United Continental team, 2.51.31
2 Østen Brovold Midtsundstad, (NOR), Solør CK 2.54.33
3 Hugo Forssell, (SWE), CK Hymer 2.54.36
4 Axel Lindh, (SWE), Team Norra – SKF 2.54.39
5 Tormod Weydahl, (NOR), Norway, 2.54.39
6 Matthias Wengelin, (SWE), Länna Sport CK 2.54.39
7 Carl Kagevi, (SWE), Serneke Allebike CK, 2.54.40
8 Eskil Evensen-Lie, (NOR), Hunton Hard Rocx, 2.54.41
9 Vidar Mehl, (NOR), Norway, 2.54.41
10 David Risberg, (SWE), Team Vostroblock Evolite Cycling, 2.54.51
Footnote: Hill prizes in Evertsberg were won by Amanda Bohlin with a time of 1.51.56 and Richard Larsén 1.35.34.
Prizes
Sprint prizes (3,000 SEK) are awarded to the first cyclist in the women's and men's classes to pass the highest point of Vasaloppet, after the first uphill slope, as well as the checkpoints in Smågan, Mångsbodarna, Risberg, Oxberg, Hökberg, and Eldris. A hill prize (5,000 SEK) is awarded to the first woman and man to reach Evertsberg. To receive the sprint and mountain prizes, participants must complete the race. Garlands to the winners and placement medals to the top three. Training scholarships to the top ten women and top ten men in the competition class. The 2023 first prize in both the women's and men's classes is 40,000 SEK. The total prize sum is 288,000 SEK.
Kranskulla and Kransmas in Cykelvasan 2023
This year's Kranskulla is Alice Larsson from Sälens IF (Kranskulla no. 99) and Joakim Kullberg (Kransmas no. 30) will step in for Albin Gezelius (Kransmas no. 35) for Cykelvasan this year.
Watch the TV broadcasts from Cykelvasan 90 2023 after the fact
Swedish Television
SVT Play >
Vasaloppet.TV (including all finishes)
vasaloppet.tv >
HISTORIC FACTS
Cykelvasan winners 2009–2023, women
2009 Hanna Bergman, Falu CK, 3.09.05
2010 Emmy Thelberg, Härnösands CK, 2.54.53
2011 Pia Sundstedt, Finland, 2.56.19
2012 Jennie Stenerhag, Falu CK, 3.02.06
2013 Alexandra Engen, GHOST Factory RT/Jönköpings CK, 2.55.37
2014 Hildegunn Gjertrud Hovdenak, Norway, 2.53.44 (Record time!)
2015 Jennie Stenerhag, Falu CK, 2.57.22
2016 Jennie Stenerhag, Falu CK, 3.07.49
2017 Jennie Stenerhag, Falu CK, 3.05.26
2018 Hildegunn Gjertrud Hovdenak, Norway, 3.04.39
2019 Elisabeth Sveum, Norway, 3.08.41
2020 Cykelvasan was part of Hemmavasan. No winner was crowned.
2021 Jennie Stenerhag, Falu CK/Åbro, 3.11.23
2022 Sandra Salinger, Mix Sports Club, 3.04.00
2023 Amanda Bohlin, (SWE), CK Hymer, 3.25.57
Cykelvasan winners 2009–2023, men
2009 Matthias Wengelin, Cykloteket RT, 2.43.27
2010 Magnus Darvell, Team Kalas/Pedalogerna, 2.39.00 (Record time!)
2011 Jesper Dahlström, Motala AIF Cykelklubb, 2.47.32
2012 Jesper Dahlström, Team Cykelcity, 2.47.20
2013 Fredrik Ericsson, CK Cykelcity.se, 2.43.01
2014 Johan Landström, Motala AIF/SCOTT 2.45.59
2015 Alexander Wetterhall, Team Tre Berg – BIANCHI, 2.44.35
2016 Lucas Eriksson, Serneke Allebike CK, 2.40.04
2017 Jonas Ahlstrand, Team ORMSALVA, 2.41.26
2018 Michael Olsson, Team Serneke Allebike, 2.40.16
2019 Emil Lindgren, Serneke Allebike MTB TEAM, 2.48.41
2020 Cykelvasan was part of Hemmavasan. No winner was crowned.
2021 Kristian Klevgård, IK Hero, Norway, 2.45.29
2022 Emil Lindgren, Serneke Allebike CK, 2.43.00
2023 Kristian Klevgård, X-Speed United Continental team, Norway, 2.51.31
Statistics: All top ten placements in Cykelvasan 90 2009–2022 (PDF)
PDF >
What's happening in Sälen and Mora around Vasaloppet's Summer Week 2023?
View our full Vasaloppet calendar >
2024
Registration for Cykelvasan 2024 and Vasaloppet's Summer Week 2024 is open now on Vasaloppet's website www.vasaloppet.se
Vasaloppet upcoming events
Vasaloppet's Summer Week 2023 – biking and running
• Friday, August 11 Ungdomscykelvasan start Oxberg, 32 km
• Friday, August 11 Cykelvasan Öppet Spår start Sälen, 96 km
• Friday, August 11 Cykelvasan 45 start Oxberg, 45 km
• Friday, August 11 Cykelvasan 30 start Oxberg, 32 km
• Saturday, August 12 Cykelvasan 90 start Sälen, 96 km
• Friday, August 18 Trailvasan 10 start Mora, 10 km
• Saturday, August 19 Ultravasan 90 start Sälen, 92 km
• Saturday, August 19 Vasastafetten running relay, ten legs, start Sälen, 92 km
• Saturday, August 19 Ultravasan 45 start Oxberg, 45 km
• Saturday, August 19 Trailvasan 30 start Oxberg, 30 km
Hemmavasan – whenever you want
• August 11–19, 2023 – Hemmavasan cykel (bike)
• August 11–19, 2023 – Hemmavasan löpning (running)
Vasaloppet's Winter Week 2024 – cross country skiing
• Friday, February 23 Vasaloppet 30 start Oxberg, 30 km
• Saturday, February 24 Tjejvasan start Oxberg, 30 km
• Sunday, February 25 Öppet Spår Sunday start Sälen, 90 km
• Sunday, February 25 Ungdomsvasan start Eldris, 9 km, start Hökberg, 19 km
• Monday, February 26 Öppet Spår Monday 90 freestyle, start Sälen, 90 km
• Monday, February 26 Öppet Spår Monday 45 freestyle, start Evertsberg, 43 km
• Monday, February 26 Öppet Spår Monday 30 freestyle, start Oxberg, 28 km
• Tuesday, February 27 Vasaloppet 45 start Oxberg, 45 km
• Friday, March 1 Stafettvasan ski relay, five sections start Sälen, 90 km
• Friday, March 1 Nattvasan 30 individually or two-person teams, freestyle, start Oxberg, 30 km
• Friday, March 1 Nattvasan 45 individually or two-person teams, freestyle, start Oxberg, 45 km
• Friday, March 1 Nattvasan 90 individually or two-person teams, freestyle, start Sälen, 90 km
• Saturday, March 2 Vasaloppet 10 freestyle, start Eldris, 9 km
• Sunday, March 3 The 100th Vasaloppet start Sälen, 90 km (Fully booked)
Register for WINTER 2024 now >